INTRO:
PROPAK is a huge annual exhibition tailored for the packaging, food processing, plastic, labeling and printing industry in West Africa. It seeks to bring visitors, exhibitors, sponsors, partners, stakeholders, speakers and enthusiasts together on a mutually beneficial platform to learn, interact and gain exposure to latest trends in the industry.
In this 7th edition of the event and with heavy investment in solidifying current facility, it's clear the organizers of region's largest show has reinforced a foundation to take on more giants of the industry.
In this post, I take you through my story and a quick review attending PROPAK 2019.
MY STORY
The text message popped:
"200 Exhibitors, 5,000 visitors, 25 countries, 35 leading Speakers. Visit Propak West Africa, the Leading Packaging Expo for Free!"
Enough to serve as an invite for a target like me.
The date:
17-19 September 2019.
It wasn't my first time at the exhibition.
I had attended the previous year's –though very briefly because of my tight schedule at the former printing and packaging firm I worked.
In the background, I was working on (almost rounding off a publication design project for a client). My plan was to round off and ensure I attended, full throttle, with my family.
I had made plans to stay over on the Lagos-Island axis with my sister for easy access to and fro event.
It was a strategy of using one stone to kill two birds.
What do I mean?
Okay.
First stone was targeted at fulfilling a usual family reunion visit (permit me to put it that way) to my sister on the Island with my family.
Second stone?
You'd guess as much:
To attend, full scale (all the days), in the Propak 2019 exhibition at the Landmark Centre, Lekki, Lagos in Southwest Nigeria.
(I just couldn't afford to miss it).
Unfortunately, plans didn't turn out as expected.
WHY?
As the days to exhibition counted down, the design project was still work-in-progress.
Quickly, I had to change plans.
WHY?
If nothing at all, I was resolute on ensuring I attended the exhibition.
I really needed it. "Badly" if you would permit my language.
The project had some hitches that bordered around delay in supply of materials –an expected occurrence in this line of business.
So…
I had to plan to attend.
But this time, ALONE.
Unfavourable Weather
The D-Day came and just as if not anything good comes easy; it started raining in the early hours of the morning.
OH NO!
Am no salt, so I won't melt.
I disregarded the continuous drips and took my leave.
(It's quite a challenge living in a new site area, if you know what I mean).
I wasn't going to drive.
I wasn't with an umbrella.
I had packed a couple of stuffs since I would be staying over at my sister's place on the Island.
I deliberately did not want any extra burden.
Burden 1:
Traffic situation.
Google maps had revealed a wide stretch of red lines (which clearly shows heavy traffic).
Burden 2:
Umbrella.
It's a stock in trade for me to lose one.
Moreover, I did not want any extra luggage apart from my backpack.
I wanted to travel light.
Coming out of the main road: It took quite a while before I finally saw a neighbour's vehicle (actually driven by a mechanic that knew me – we had met the previous day in same vehicle when my neighbor gave me a ride home).
I was excited hoping I had been lucky to get a free ride.
But, NO, my excitement was short-lived.
WHY?
The mechanic was on his way to his workshop (which was partially okay for me).
But worse still, he had to pick something he forgot from his house.
No.
I could not afford this luxury of time. I had to drop at the next junction to continue with my journey.
The Danfo
At about the same time, a rickety vehicle (you know our usual Lagos yellow buses, popularly called danfo.
I had barely entered and settled down when I realized my heart had taken over my head.
The vehicle I boarded was in shambles.
The noise from its weak cringing engine was enough to send migraine signals down one's cerebrals.
There was a critical problem with the vehicle that was deliberately ignored.
The clear signals were the continual ooze of fumes from the exhaust coupled with the noise emanating from the bus' engine.
Who cares?
I do o!
The fumes from the exhaust found its way into the vehicle and affected me badly.
My eyes dripped tears. Breathing for me was getting very bad.
Of course, I had a choice.
Drop off.
But no.
I couldn't.
WHY?
I had some forces against me at the time:
It started raining heavily
Time was not on my side at all.
I was forced to stick with my predicament.
I just wanted to attend Propak 2019.
So, I managed like most resilient Nigerian would –suffering and smiling.
The condition in the vehicle became worse:
Multiple leakages from the roof and through the glass window.
It was indeed PATHETIC in every word of it (and in capital letters).
ARRIVAL
Summarily, I arrived event (not drenched in woes I had faced, thank God) quite late into the event.
But at least, I met the first speaker in the seminar/syndicate session.
My objective was clear: NETWORK.
I was able to quickly exchange contacts with a couple of prospects.
Big players in the printing, packaging, publishing and plastic industries in the world were represented.
Big names like Heidelberg, FC Exports Group, Veevee Paper Products Limited, Technology Global Services Limited, Tarabichi Printing and Packaging Nigeria Limited, Techblow Nigeria Limited, Exact Solutions, Vista, SkySAT etc were on ground to display their wares, equipment and demonstrate to would-be buyers.
The Organisers
No doubt, the organizers did (always do) a great job.
Afrocet Montgomery's Regional Director, George Pearson in his words:
"It gives me great pleasure to welcome you all to the 7th edition of the largest international packaging, food processing, plastics, labeling and print exhibition in the region."
On record, it's the largest show the organizers have ever run representing over 200 brands participating from over 40 countries in Sub Saharan Africa.
This is a testament to Propak West Africa's success and the confirmed demand from companies wanting a piece of the market.
The speakers at the event were top notch featuring senior representatives from some of the most recognized companies in the continent of Africa.
The theme:
Sustainability in Manufacturing: With an Increasing global Shift in Plastic Waste and Responsible Packaging.
NETWORKING & RECONNECTING
The few days I attended really proved informative, interactive innovative and revealing in all facets.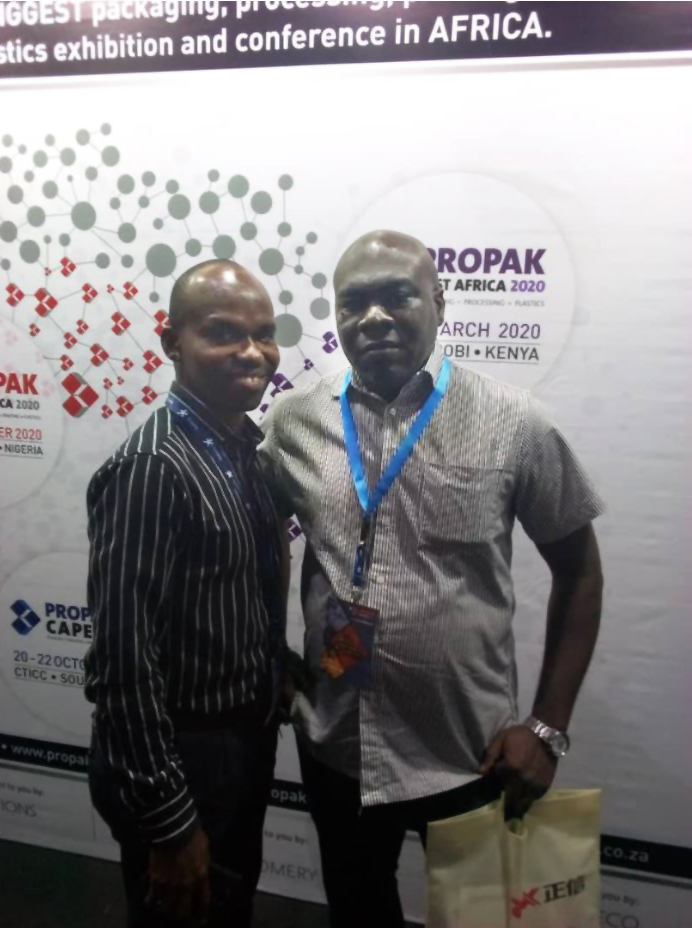 It was a good platform to reconnect with professional colleagues and friends in the industry.
(Especially for some you've not seen for a while).
Like Akin Oduwole of Technology Global Services Limited said when I met him at the event: "I love exhibitions, they connect long time friends and colleagues you may never see for a very long while."
I also had my fair share of reconnecting with 'long-time-no-see' professional colleagues and friends: Babatunde Afelumo of BQ Concept Ventures; Abdulrasheed Afolabi lecturer at Yaba College of Technology; Sunday Ajibola of S-Squares Productions; Temitope David of Pressfix Nigeria Limited; Olumuyiwa Olufemi, John Onuegbulem of Heidelberg Nigeria Limited, Fenton Curley of FC Exports Group, Basit Odesanya of Basgaz Consults and Ali Hassan of Laserline Diecutting International and Joshua Okoh.
It won't end well, if I forget to mention new friends I made: Suhial Almousa of Tarabichi Printing & Packaging Nigeria Limited chiefly into production of packaging labels in reels; Fayoade Oluwatomilade of Veevee Paper Products Limited which are into manufacturing of corrugated cartons; Shashi Ranjan Kumar of Techblow Nigeria Limited (with nine subsidiaries –one of which is Shongai Technologies Limited into innovative flexible packaging solutions; Chris Kpatuma of Truvia Media an IT-firmand Tade Adegbite of Eagle Packaging Limited.
The event was packed full to the brim with exhibitors, visitors, enthusiast and of course, the organizers.
CONVERT
I happen to convince my sister to attend even if she was entirely new to the industry.
I felt she could be inspired to invest if she sees industry's creative approaches and demonstration in display at the event.
GUESS WHAT?
I succeeded.
On day two, she followed me.
(I got a convert and I think I deserve a Propak award, LOL).
There will always be something to take away at such BIG event that features:
Seminars, symposiums, workshops and syndicate sessions
Opportunity to network with high profile individuals and professional bodies.
Inspiration for prospects to invest in the industry on seeing practical live demonstrations of processes and machines in full operation for production.
Enjoying beautiful, natural seaside scenery and other side attractions.
And lots more.
CONCLUSION
Though I could not make the last day and grand finale of event, I must say I gained a lot.
I want to seize this very rare opportunity to specially thank the organizers, sponsors, partners, exhibitors and even visitors (plus my sister for agreeing to come) for a great, awesome, worthwhile and successful exhibition.
Weldone and God bless you all.
Now, I turn it over to you.
Were you at the event?
If not, what is your take from my review?
Either way, let me hear from you in the comments section below right now.
Enjoy some other great, exclusive and highly valuable content:
1. How To Start A Blog In Nigeria 2021 + Video Tutorial (Just 3 Simple, Fast & Easy Steps)
2. Logo Design Nigeria 2021: The Ultimate Guide (Experts Pro Tips)
3. How To Create A Website in Nigeria 2021 + Video Tutorial (In 5 Minutes With Just 3 Simple, Fast & Easy Steps)