I got Akin Alabi's new book: "Small Business Big Money" at the just concluded #YECO 2017 in Lagos, Nigeria.
It's important that I mention I did not really buy it, I got it FREE on a VIP Reservation Plan.
Sincerely, it's being a while I read a physical book (most of my readings has been online).
But this book stylishly kept me spellbound.
WHY?
I GOT LOCKED IN (which kin Juju dis guy do?)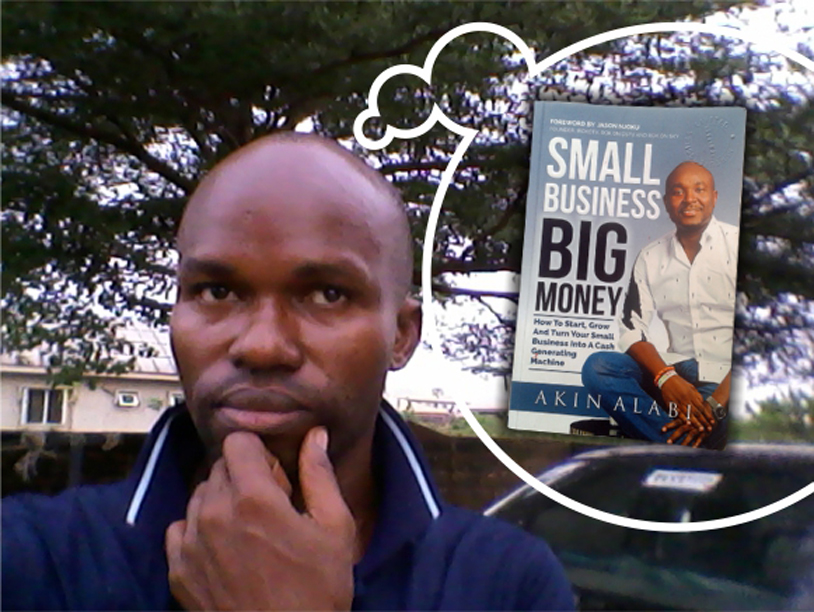 The simple approach to writing, communication of ideas and the sincerity of motive all held me further entangled in this book… don't mind my grammar (after all that was one of the author's disclaimer –he's not an Englishian (if there's any word like that).
Immediately, I felt a connection with how and what he wrote and was excited to read (though I had struggled to read the foreword by Jason Njoku on day of event).
But guess what?
For the first time, I took a book of 224 pages and finished it in a day.
Morning till evening, I got glued in.
Bearing in mind I'm a slow reader and get kinna bored easily, to me, that feat was ground breaking.
I know some sharp guys can do that in less than 3-4 hours but then I'm not that high-IQ-gifted…Sorry O!
Well that's that for that.
Let's get down to brass tack.
I've got some personal revelations from the book I'd love to share with you.
Let's dive right in.
Before I share my revelations, let me quickly tell you that…
Something Happened Before Chapter 4
Sounds like an interlude abi?
No, it's not.
It's something more serious…
I came across some vital "food for thought" lessons, in a new way though, that made me drop the book and think deeply for some minutes about what I've read so far.
Yes, I've been running my business for quite a while now.
But the 'blow' wasn't just coming neither did it seem to be at sight.
So what was the problem?
All through my time with the book, I tried relating what I've read with my real-life business situation.
I feel there must be something wrong somewhere…
Until I got this BANG!!!
Take it…
Revelation 1
"Don't create a product or business and then look for customers, rather look for what people want and then create a business around it."
Of course, I knew already about the need to do online keyword research and streamlining to build your business on what I term 'TRECC' keywords.
By the way…TRECC means Traffic, Relevance, Competition and Commerciality.
But come to think of it, after you've done all that and you still find out that people don't want it.
):
Does that look like a symbol of worry?
My paddy YES IT IS!
As I read through, I also found out justifications to build a business on what people want not what they need.
I started getting some very powerful revelations and decided to think DEEPLY about them before moving forward…So I asked myself a sincere question:
"Have I been working so hard on a product that people don't want but need?"
I know I can be a die-hard fan of what I strongly believe but then, this gave me a paradigm shift.
This point gave me a new way to look at the whole thing and a whole way of doing business.
But again, I had to be careful taking all the points hook line and sinker.
After all there was a disclaimer to all these claims of his.
My final take on this?
I believe there must be a way of striking a balance of wants and needs.
Or better put, it'll be a good idea to find ways of merging people's wants and needs in one.
That sounds better abi?
So for me, I'm all out on the journey to search for that balance.
Revelation 2
As an entrepreneur, "You Will Always Have A Boss"
Yes you got that right.
As an entrepreneur, (what the heck are you feeling like?), he reinforces the fact that you still have atleast a boss if not bosses.
In the book, Oloye Akin Alabi mentioned that his business is regulated so he has quite a lot of eyes that are always around…
…spiritualist call them "monitoring spirits."
They seemed to always set traps for him to fall into (I thought).
Coming down to my story…
I was shocked at the approach of an officer from one of those government agencies.
They told me that if we don't pay for our trade permit within a stipulated time as reflected in the notice they handed to us, they'll lockup our "shop."
WHAAAAAT!
Hey I'm my own boss, you can't do that.
Afterall, what was the government even doing for us sef?
Tell that to the marines, birds, the list is endless.
Face the reality:
As an entrepreneur, it's only responsible of you to keep your business running within the ambit of the laws of the land.
You can't escape it.
I bet that if you're doing that now (playing pranks), in no time, like magic, the looooooooooong arm of the law will catch up with you…
..and guess what?
You'll indeed be sorry.
The tax, signage, power supply, security groups and EVEN YOUR LANDLORD are also all around to flex their muscles on you when you "try" them.
So get that right my people.
As an entrepreneur, you are not absolutely your own boss but have bosses all around you.
AGAIN THERE'S A BIG BOSS COMING.
…as the popular saying goes…
The customer is King.
So whether you like it or not, the customer is also your boss.
Revelation 3
You need to walk longer and smarter that anyone else.
I recall I had little working time with a pastor in Lagos.
Due to the nature of production, he sometimes stays quite late with us doing production.
He worked both hard and looooong –permit this please.
Till date, he still does that and he's far better for it.
As a matter of fact, he made this statement:
"Only poor people sleep at night"
The mere fact that you are your own boss doesn't mean you'd just stay at home watching big screen TV and sipping juice all day long.
NO!
If you do that, I bet you in no time, you and your business will go under.
The most important thing is to figure out the aspect of your business that you need to work longer on especially when it comes to providing leadership and a cut clear direction for the business.
For me I've deliberately reduced my sleeping hours from eight to six to gain two more hours for work, strategic thinking, writing, concept generation and other productive tasks.
Revelation 4
You can't have more money now.
From browsing through the pages of the book, I came to realize that for a business to succeed especially when its just starting out, you need to put in a lot of sacrifice especially depriving yourself of cash.
Did I hear someone say:
"NO! I'm the owner of this business; I should have all the money"
Well go ahead…and then you'll go under.
I've heard this many times:
"Maturity is the ability to delay gratification."
So as you mature in business, you will learn the hard truth of delaying the gratification of always being with all of the money—just because you're the big boss now.
Revelation 5
Opportunity Is Different From Business.
The book throws more light into the difference between seeking opportunities and building a business.
It was cut clear: Scouting around for opportunities is not sustainable.
Your best BET?
For me, it'll be more sustainable to find emerging opportunities and build a business around it than waiting forever for one contract that may never come.
Revelation 6
Be the first in your market place.
Be among the Evoked Set.
He described the Evoked Set as those that are the first to do new things or do old things in new ways.
Okay I know someone is quoting:
There is nothing new under the sun.
I also know that part of the Bible okay.
Well, that's where strategic thinking and hard work comes in.
But then how about being the first to introduce that particular thing in your industry.
The world over, Nigeria is regarded as an emerging market.
What that means?
There are quite a lot of business ideas that you think is not new, but in Nigeria here, it is brand new.
From Akin Alabi's point of view, sports betting has been existing in other climes, but then he was the first to bring it to Nigeria as a local business.
On the other end also, he advises that if you're in an industry it seems anything new is near impossible (you should remove this from your dictionary) or absolutely difficult, be the first to introduce something (no matter how small) no one else is doing or willing to do.
In my own terms, I call it going the extra mile.
Being extra-ordinary just means adding the extra to the ordinary (they are two different words merged by a hyphen here abi).
Revelation 7
Test and Stick With Most EFFECTIVE Advertising for Your Business.
Read my lips here (even if you can see it, just imagine it).
I mentioned effective.
Nothing less, nothing more.
How can I know the most effective advertising medium that gives me optimal performance for business growth?
TEST and THINK through what you have to offer and advertise.
So before now, I felt I should print 1,000 jumbo-sized posters; 10,000 flyers paste and distribute all around my business locality.
But now, from lessons I learned, I'm carefully giving it a second thought.
All thanks to the way Akin started out with the book:
Don't jump-start that business until you finish reading this.
So back to my second thought.
I feel I could explore (or better still test online platforms first) before deciding on what works best.
I must mention that Nigeria, as we all know, is a unique place.
And the humans therein?……………………………………………………….(fill in the blank space).
What is good for the goose might not be for the gander.
Revelation 8
Do Everything You Can To Stimulate Word of Mouth Marketing.
"Bad products are not as bad as bad customer service"
Sometimes I relax on the "gra-gra" I make on getting signboards, banners and other advertising materials all over my business location.
I do something.
WHAT?
I ask some of our customers how they got to know about us?
Some say they saw (as they've always been seeing) our signboard, adverts.
For others that come from reasonably far distances, they tell us that someone that has "experienced" us told them about us.
That's quite encouraging RIGHT?
In the book, Akin gave some revealing statistics about why businesses experience low patronage.
Now let me just copy and paste that abi?
Here you go…
1% of your customers stop buying from you because they die.. that's inevitable.
3% move away…sure after all 20 girls don't stay together for 20 years.
14% are lured by a competitor. This is bad.
14% are lured away by product dissatisfaction.
All these added together gives 32%.
Now here's the big deal…
68% leave because of indifference and poor attitude/customer service.
So what do you make of this…
Because it's huge.
Customers are why you're in business.
Do everything within your reach to please them.
Because if you don't, I don't want you experiencing the latter percentage loss and more.
WHY?
You'd be TOTALLY out of business and in no time BANKRUPT (you'd probably be considering relocating back to your village in GMG).
MOVE, JUST MOVE
The beautiful thing about the book is that it sets you in motion to do something NOW…
THAT'S MOTIVATION I just defined there.
So NOW DO SOMETHING FOR ME NOW…
Tell me which ONE of my revelations from the book struck you.
Which one are you are going to put into practice in your business.
Tell me about it right now in the comments below.
Enjoy some other great, exclusive and highly valuable content:
1. How To Start A Blog In Nigeria 2021 + Video Tutorial (Just 3 Simple, Fast & Easy Steps)
2. Logo Design Nigeria 2021: The Ultimate Guide (Experts Pro Tips)
3. How To Create A Website in Nigeria 2021 + Video Tutorial (In 5 Minutes With Just 3 Simple, Fast & Easy Steps)