More Insights and Action Points with Crazy Egg
I mentioned about this powerful, interesting and revealing online web application that enables you to do wonderful things with your website – especially as regards showing you, in a visual form, where your potential visitors, clients or customers are interested in. I have more revealing aspects of our case study: Nurturedscills website. Let's get cracking now…

1. New vs. Returning Visitors: Here we see that the number of visitors as at the date last checked was 27 against 3 new visitors. What this tells me is that the website has only been able to successfully recycling its visitors. The question is: how come it's just 3 new visitors that the website can attract? The other good part we can also focus on is that the returning visitors must have found something(s) really valuable to always want to return back and check for more. The answer will definitely fall into place as we go on.
2. Referrer: For the referrer section of the application, we see 27 referrers coming from the website; successintl.org 2 and just one direct referrer. This clearly displays that majority of what is being referred come from the website. So we ought to find other ways of getting referral or recommendations for the website.
3. Search Terms: None shows that the website has no particular keyword it is being optimized for.
4. Search Engine: There are no search engine on which the website shows up.
5. Country: The website is heavily viewed in Nigeria taking 28 out of the 30 potential visitors to the website. This leaves two for the United Kingdom.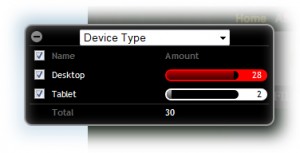 6. Device Type on which the website is majorly viewed is on desktop taking 28 while tablets takes 2. This could be a signal that the website may not be optimized for smaller devices like smartphones.
7. The type of Operating system used by visitors to the website are 26 for Windows 7 users; 2 for Windows XP and 2 for iPad.
8. The Types of Browsers on which the website is majorly viewed is Mozilla Firefox which takes 26; iPad takes 2; Google Chrome takes 1 and Internet Explorer takes 1.
9. The Days of the week when the website is viewed or visited mostly are outlined as Monday 13 visits; Tuesday 8 visits; Wednesday 5; Saturday 2; Friday 1 and Thursday 1. What implication does this have? No implication but the fact that I will need to be strategic in posting articles, pictures, videos or whatever media I may so choose. The best day for me as stated in the illustration here is Mondays, Tuesdays and Wednesdays.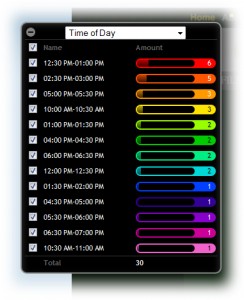 10. Time of Day: The best time of day as reflected in our illustration, to post is between 12:30 and 1:00p.m. I guess quite a lot of people would be on break this time so they have some time to spare. The other best times to also get something new across are between 2:30-3:00p.m.; 5-5:30(p.m.) and so on as indicated in our illustration above.
11. Time to Click: Most visitors to the website have less than 5 seconds to decide if they want to remain on this website or not. So if the website (the home or index page in this case) loads slower than 5 seconds, visitors will be bouncing off to another website which may be the competitor's and I sure wont like that.
12. Window Width: This shows the width size of the visitors to the websites. Before now I had designed the website on 850px width dimension. Now looking at the site's visitors, a wider width dimension can be justified.
In summary, the table below shows us all the very important elements visitors are interested in. So it's just pertinent that we consider all these and ensure we project them appropriately in the new design.
Influence on direction of design:
All these important points stated above will naturally influence the direction of the design at hand. Now it's not just that the design is fine but functional and getting the results it was meant to get. I call it informed design decision.
Responsive Website Design
There was a website I built that ended ranking number 3 on Google. I was really so excited about this and indeed I really worked hard on it to get it that far. I was virtually updating it daily. Though my original plan and goal was to ensure it ranked number one, I was, all the same, surprised at how fast I could climb the ladder for that particular keyword within a short period of time. Then I received a comment from a visitor asking for it to be mobile compatible. At the time I never knew anything about that so I just searched up a mobile plug-in, installed, configured it and pop – that did the work! Well, ever since and being a good design lover, I've always kept my ears close to the ground for better ways of presenting websites to represent your brand across board. The downside of the plug-in I earlier mentioned was that it just gave me a mobile version template (boy! I hate templates!). It didn't look the way I wanted it to but had to just make do with what I had – atleast it would solve the problem for the time being.
So What is Responsive Website Design?
Defining responsive website design in my own language sha is just structuring your design for ease of use and above all, adaptability to different screens. In responsive website design, you keep in mind the smart phone, the tablet and the desktop users in crafting out your design. These days where quite a lot of people use their phones to browse, you must be able to structure your design to meet their needs. The "USER" in user-interface or user experience is the most important factor here. The person "using" your website either through his tablet, smart phone or desktop or laptop computer must find it very easy and enjoyable. You must present elements in their right order of importance (that's why Crazy Egg's around the corner for you). You must give your target audience what they want and not what you think is right for them – because you may just be dead wrong when you assume prospects preferences.
Trying out the Dreamweaver CC
My plan to go with the responsive design for Nurturedscills website is with Dreamweaver CC. This is the latest technology that incorporates design adaptabilities for mobile devices, desktops and laptops. I saw a beautiful demonstration on how you can build a responsive website and I was sold out fast!
My Home page design & incorporating Responsiveness to Design
This is nurturedscills' new improved screen shot design I did in CorelDraw that incorporates all my research including being responsible responsive. What do you think?

Stay tuned, I will keep you posted on my progress report. In the future, I will be publishing videos of my step-by-step approach (for only subscribers please) so you can follow seamlessly.
See you later and please let me hear your comments on the new design.
Peace!
Tweet